Omega Speedmaster "Apollo XVII" 40th anniversary Limited Edition
A closer look
Original article written by Dale Vito @ www.acejewelers.com for Watchuseek.com.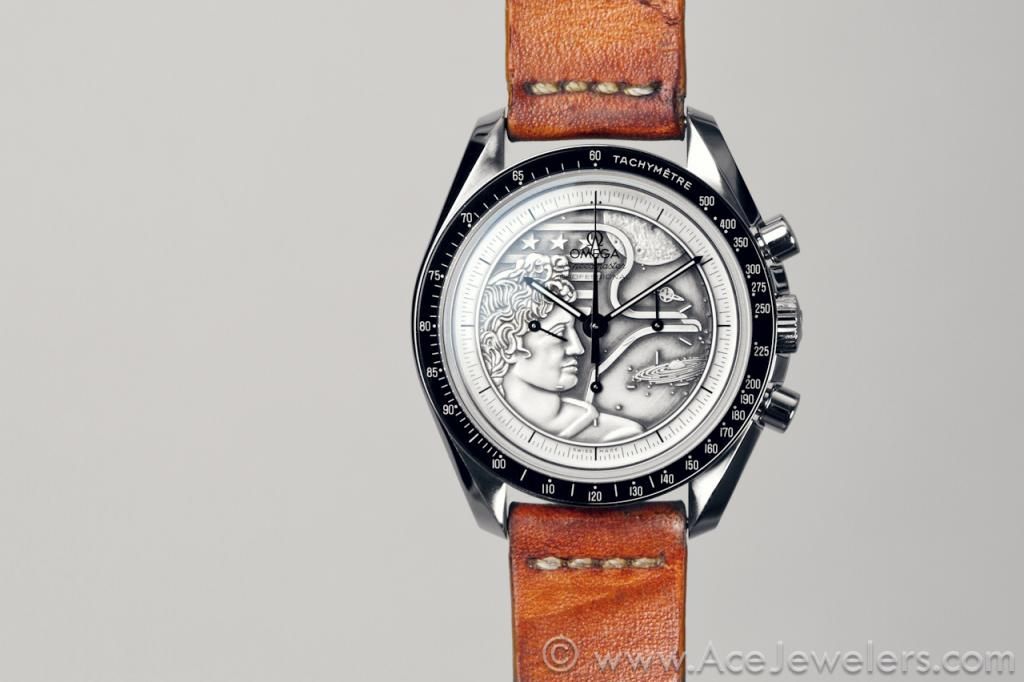 Omega surprised both friend and foe when they presented their latest limited edition (1972 pieces) Speedmaster Professional at the 2012 BaselWorld show. While we have seen many Speedmasters adorned with the famous NASA-patches, their latest offering seemed to outdo them all in grand fashion, sporting a dial in 925 silver engraved with the Apollo XVII patch.
BaselWorld 2012 has long passed and I have since had the chance to spend some time with this unusual Speedmaster specimen. A closer look thus seemed in order. Please keep in mind that this is by no means a review, but rather a personal observation.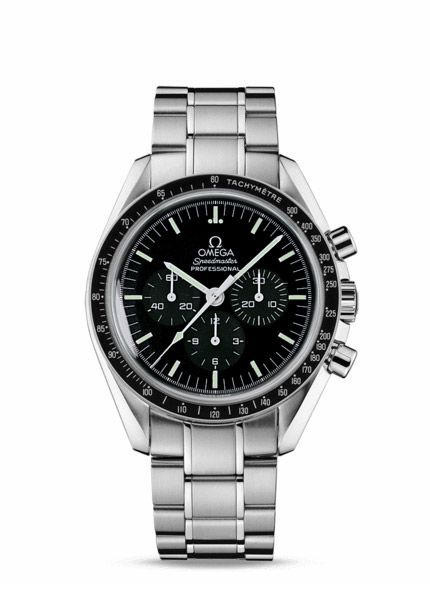 1997 ref. 145.0022 (PIC 3597.20), 2003 ref. 3574.51
To the best of my knowledge, the Apollo XVII 40th anniversary is the third Speedmaster paying tribute to this final Apollo mission, preceded by the ref. 3574.51 and the Mission Patch ref. 3597.20 (145.0022). The former was fitted with a standard dial but featured a caseband engraving and special caseback, while the latter lacked the caseband engraving but had a dial which featured a printed version of the Apollo XVII patch in the nine o'clock subdial.

2009 ref. 311.32.30.01.002, 2013 ref. 311.30.42.30.99.002
So the Apollo XVII patch was nothing new to Omega. Even an engraved patch was a thing the famous brand used before – on the 2009 Apollo XI 40th anniversary watch, which featured a patch in either silver or gold on the 9 o'clock subdial. But for the Apollo XVII, Omega decided to shake things up and do things differently.
The Apollo XVII is not fitted with the standard black dial, but rather with an example in 925 silver, 100%, fully, COMPLETELY dedicated to the Apollo XVII patch – except for the chapter ring. The engraved dial is patina'd by hand, giving the image more depth and life. Quite a departure from the original toolwatch concept!
Picture via Google images
The original Apollo XVII patch was designed by the late Robert McCall, a artist renowned for his space-influenced art and work for NASA. It was based on the statue 'Apollo Belvedere', which depicts the Greek God Apollo just after shooting an arrow at the serpent Python. In Mr. McCalls patch, Apollo is pictured in front of stylized image of an Eagle. The eagle is adorned with stripes resembling the American flag, and three stars depicting the crew members. On the background we can see the Moon, Saturn and a galaxy.
But does something like this 'work' on a toolwatch like the Speedy Pro? An icon, a horological classic like very few others? In a strange way, I think it does – even more so in person than it does in pictures. It takes the Speedmaster to another level, it changes the watch from a functional instrument to a piece of art, just like Omega did on the 1994 Armin Strom-skeletonized Speedmaster 145.0063 and, arguably to a lower extend, on the Meteorite dialed 311.30.42.30.99.001.

L-R; 1994 ref. AT 145.0063, 2010 ref. 311.30.42.30.99.001
The dial is reminds me, at least in spirit, of the wonderful enamel cloisonné dials from years gone by, of which we see stunning examples pop up and fetch killer prices at auctions every once in a while. Only this time the vivid colors of the enamel are exchanged for the monochrome look of the patina'd silver – and stunning it is!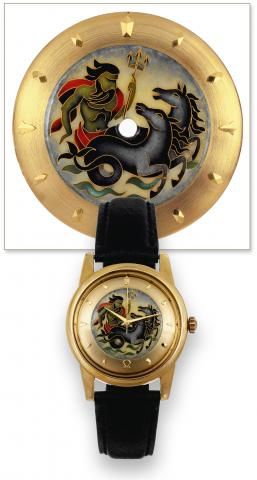 L-R; aftermarket cloisonne enamel dial on 1954 Omega, 'Neptune's Chariot' 1954 Omega, cloisonne enamel 1950 Omega – all pics by Antiquorum
Even more so, it hints of coin watches as made famous by makes such as Corum, Vacheron Constantin and Piaget, often using the Liberty Head Double Eagle. While the combination of this type of dial with the Speedmaster Professional is by no means obvious, it creates a stark contrast that is interesting on many levels – visual, intellectual and horological.
L-R 1980's Piaget 20 Dollar Coin Watch, 1980's Corum 20 Dollar Coin Watch- all pics by Antiquorum
Sure, the Speedmaster Professional "Apollo XVII" 40th anniversary is not for the faint of heart. It might send shivers down the spine of purists Speedmaster collectors. But those looking for something different, something thought provoking, something defiant and out-of-the-ordinary: this might just be your watch!
Quick tech specs;
42mm
Stainless steel on stainless steel bracelet
Cal. 1861
Special box with full color Apollo XVII patch – as shown below by Captain Eugene Cernan
Special caseback 'Last man on the Moon'
Limited edition 1972 pcs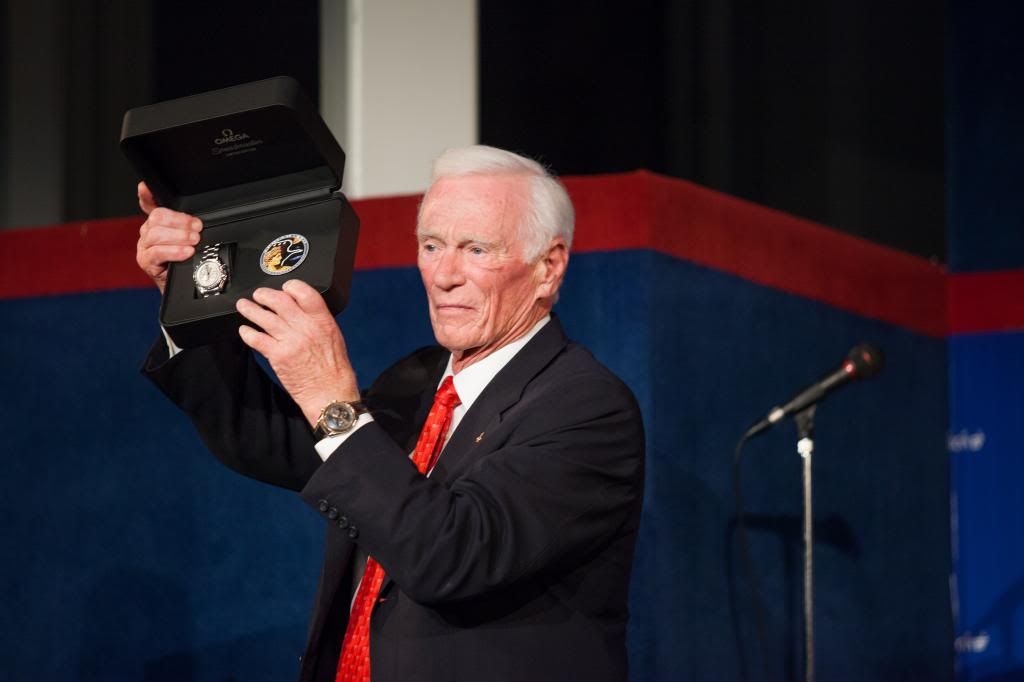 Picture by Omega
Extra pics;