Die grosse Mehrheit der schweizer Uhrenexporte geht nach China und Asien.   Max von MB&F, einem exklusiven Uhrenhersteller in der Schweiz, verbringt viel Zeit in China.  Gleichzeitig ist es so, dass es im Osten nicht nur Kunden gibt, sondern auch ganz besondere Künster.  Max hat Huang Hankang, einen chinesischen maker, der dieses kleine Kunstwerk vom Pandabären kreiert hat welches sich jetzt in Maximilian Büsser's Wohnzimmer befindet: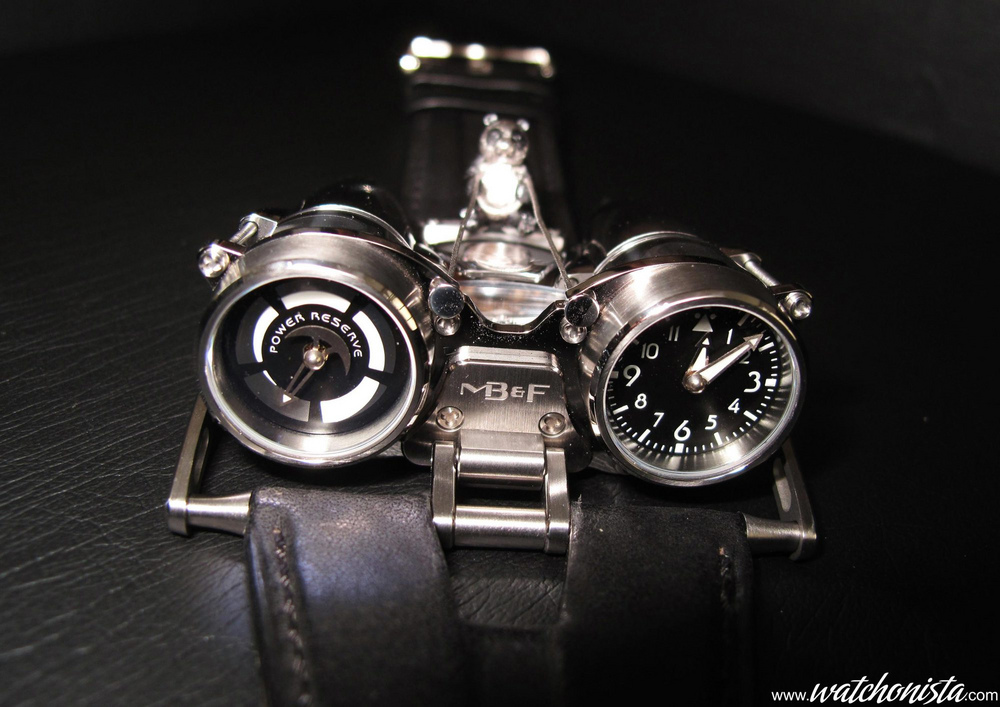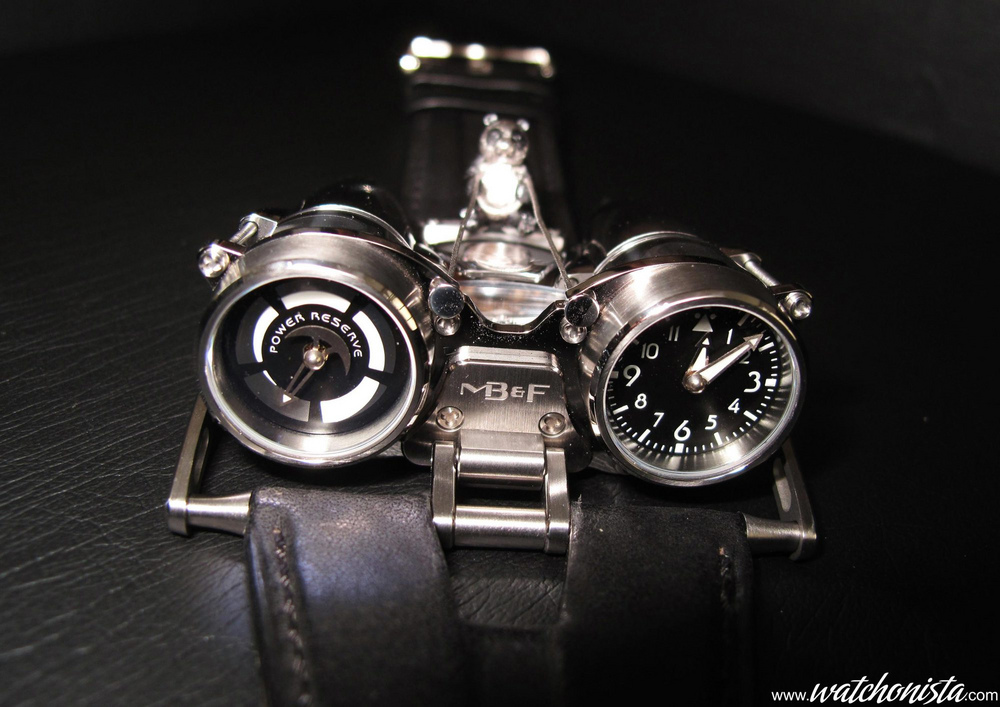 Um grundsätzliche uhrmacherische Konzeptionen zu überwinden, bezieht MB&F ihre Eingebung aus mehreren Bereichen wie von mechanischen Maschinen aber auch gegenwärtiger Kunst.
In der westlichen Welt hat gegenwärtige Kunst längst die handwerklichen Fähigkeiten hinter sich gelassen, um sich mit konzeptuellen wie auch "Events" zu befassen.  Man betrachte doch mal den berühmten Hummer von Jeff Koons, der mit einer Qualität wie man sie am Meer in «Sables d'Olonnes» findet, aufwartet.
Man kann unmöglich die Qualität der Herstellung in China vernachlässigen.  Der Künstler muss nicht nur perfekt sein in der Ausführung, sondern auch in der Umsetzung.  Die Qualität der Verarbeitung garantiert Langlebigkeit und unsere Museen sind gefüllt mit religiösen Motiven einer verschwindenden Schönheit. 
Daher muss der Künstler im «Empire of the middle» eine echte, ernsthafte und solide Handwerkliche Fähigkeit darlegen.
Dies führt uns zurück zur Uhrmacherei.  Selbst wenn unsere beiden bescheidenen Uhrmacher von MB&F das Gegenteil sagen, sie sind wahre Meister einer längst vergangenen Fähigkeit.  Sie begeistern mich wesentlich mehr als eingehüllte Monumente wie bei Christo. 
Logischerweise fühlen sich grosse Modedesigner als echte Künstler, sie sind weit weniger bescheiden aber auffälliger als unsere Uhrmacher…


Unterstützen Sie Only Watch auf Facebook, werden sie ein Fan!


Viele Bilder, exportierbare Links.


Auf Antiquorum.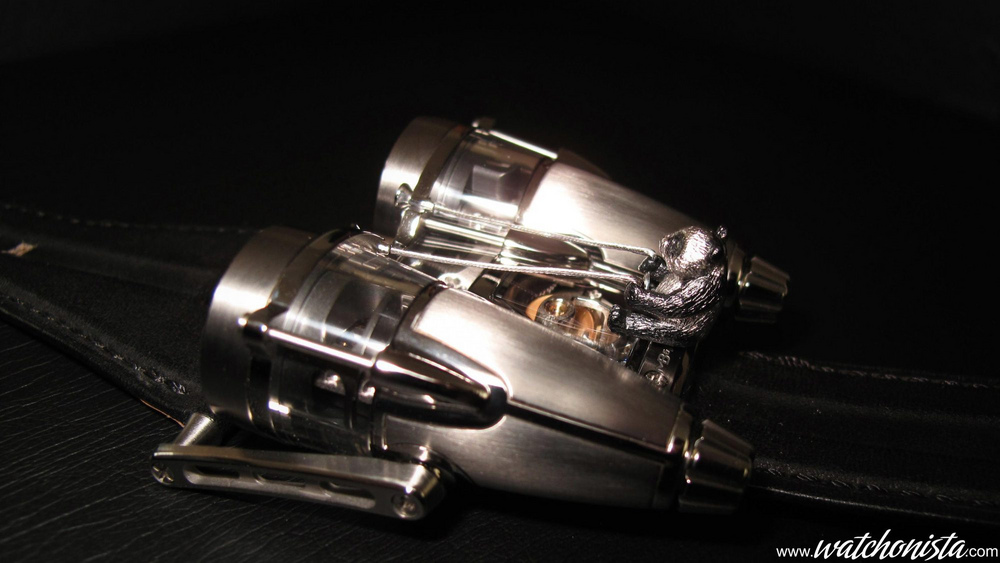 In dem Bild «The Mission of Peace», Huang Hankang stellt die boomende Wirtschaft, die soziologischen, militärischen und geopolitischen Zustände Chinas anhand einer Metapher dar durch den sitzenden Panda Bären einschliesslich der Zweideutigkeit, die damit verbunden scheint.
Eine interessante Metapher der Elite, die ein blindes ökonomisches Ungeheuer bei Höchstgeschwindigkeit steuert.
Dieses Bild ist eine hervorragende Bezeichnung des Hauptthemas «China in 2011»: es stellt sich die Frage, ob der Panda in der Lage ist, die "Rakete" unter Kontrolle zu halten?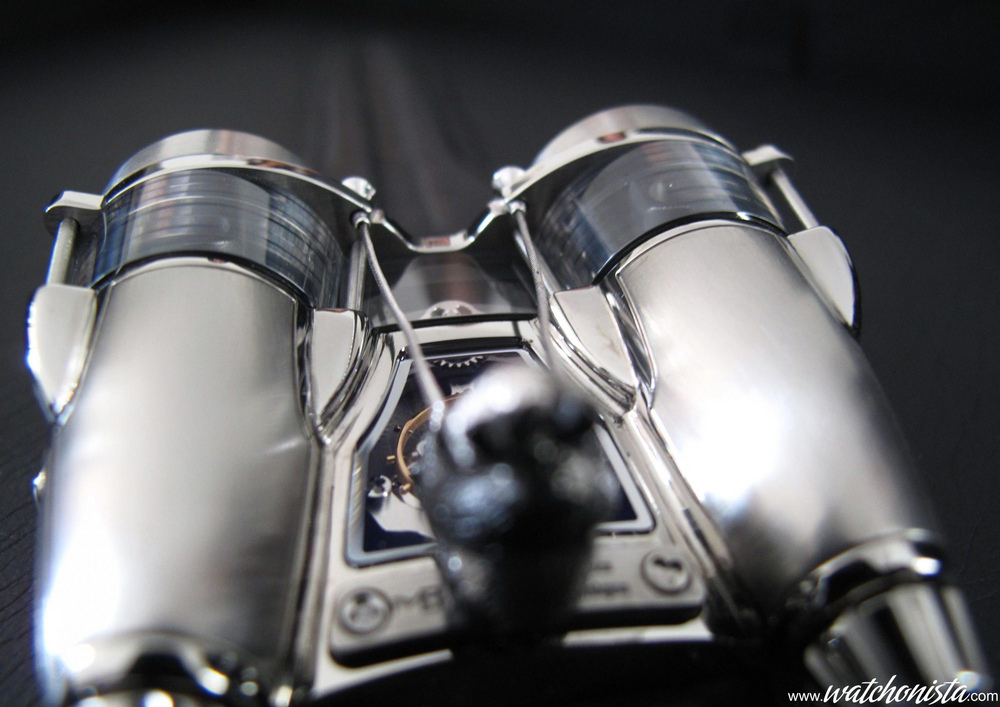 Max hat das Thema Flug respektive das Emporschnellen für «Only Watch» in 2011 ausgewählt.  Die Kinder, die bettlägerig sind aufgrund von Muskelschwund, die gleichzeitig davon träumen, dass sie losrennen können wie jeder andere auch. Der Panda, der Baby-Bär ist eine Versinnbildlichung des bettlägerigen Kindes, dass sich aus den Klauen dieser furchtbaren Krankheit befreit.
Dieser Panda brint uns dahin zurück, wo die Konzeption der HM4 beginnt.  Als Laurent Besse und die "Artisans Horlogers" die HM4 entwickelten, hat Laurent mir (Malik) anvertraut, dass die HM4 ihn an die Düsen von Atlantis erinnern, Albator's Raumschiff, welches ihn möglicherweise zurück zu seinen Kindheitsträumen des Losrennens, des Abhebens führt.
Sowohl Laurent als auch Max Büsser sahen die Atlantis, wie auch die Düsen mit den Augen eine Kindes bevor es ein Teenager wird.
Die Düsen der A10 «Thunderbolt»: hier erinnert uns der Panda auf seinem Ritt an die Rakete von Huang Hankang's Gemälde.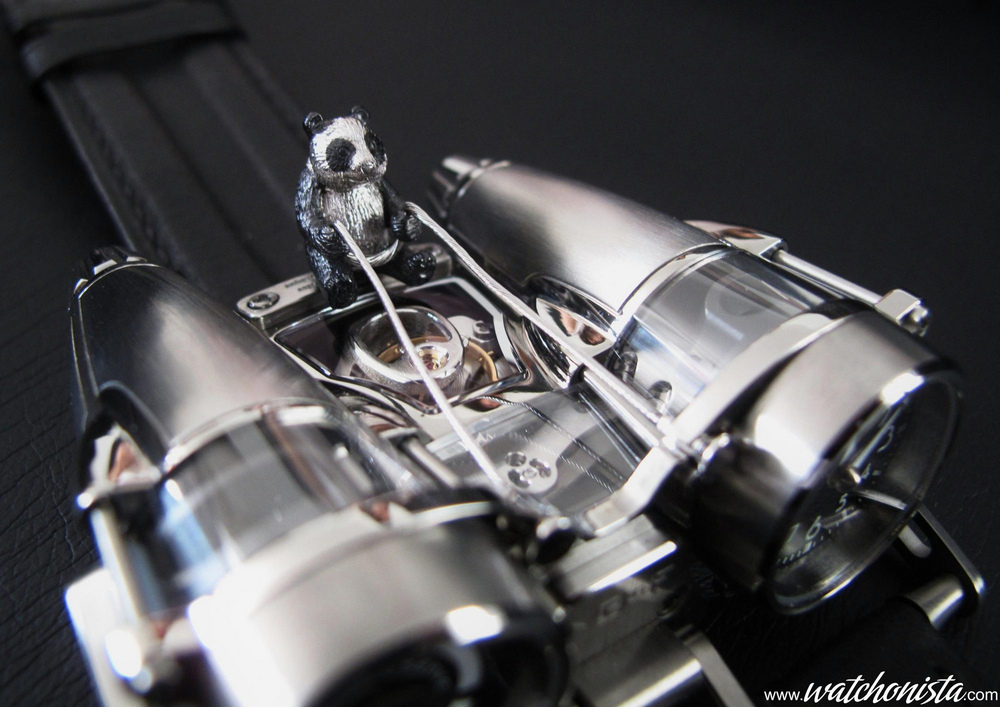 Der Panda besteht aus PDV gecoatetem Weissgold.  Er reitet auf der HM4, deren Zügel aus dem gleichen Material bestehen.
Die doppelte «Krankentrage» der HM4 ist modifiziert um Platz zu schaffen für den Panda und die Zügel, die Rückseite der Uhr ist signiert von Huang.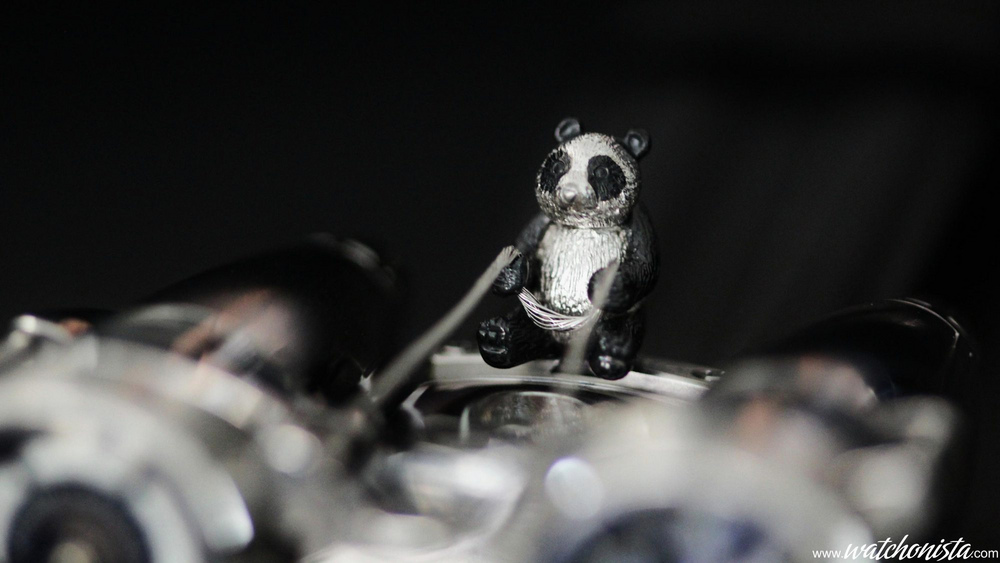 Die Bezeichnung Standard ist natürlich relativ, wenn man von der HM4 spricht. 
Das Uhrwerk ist auf 21600v/h getaktet mit einer Gangreserve von 72 Stunden, die durch ein Doppelbarrel Uhrwerk mit 50 Rubinen getragen wird.  311 Komponenten stecken in dem Werk.Das Gehäuse ist 54X52mm gross, und hat eine Höhe von 24mm. Es besteht aus Grade 5 Titanium und besitzt fünf Saphirglasöffnungen.  Zwei dieser Öffnungen sind rund.
Um sich ein besseres Bild zu machen, hier ist ein Foto am Arm:  Die Dimensionen sagen wenig aus über die wahre Grösse.  Eine HM4 ohne den Panda: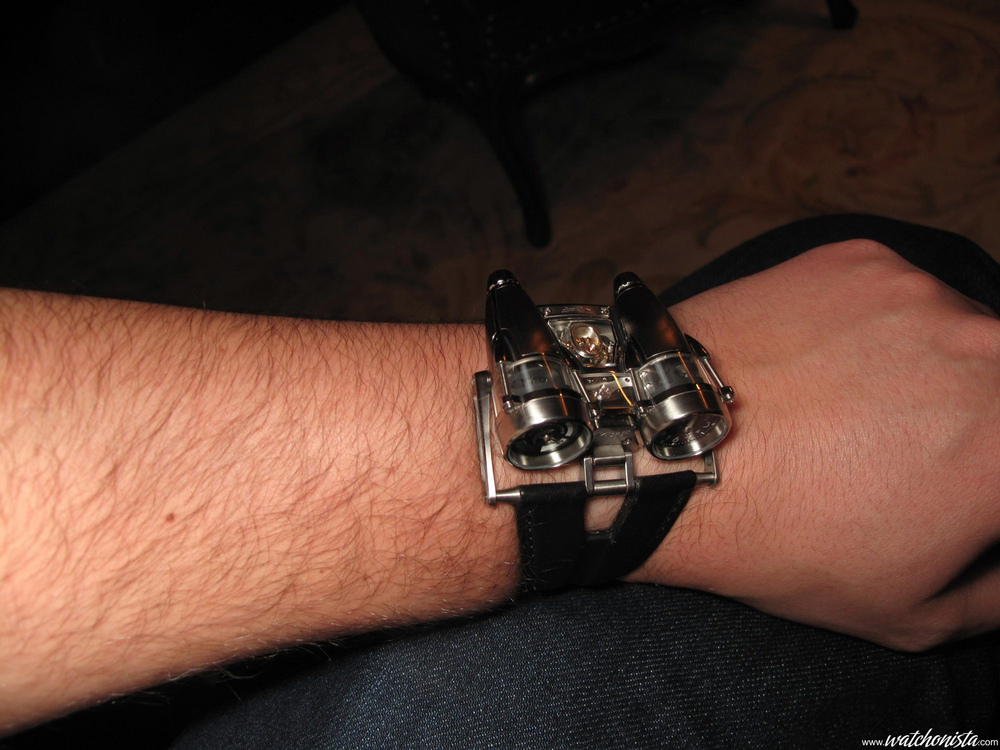 Aus der Sicht eines Sammlers stellt diese Uhr noch etwas Gutes dar, sie reduziert nämlich die Warteliste um eine Uhr!!!  Die HM4 mit dem Panda wird auf der September Auktion von "Only Watch"verfügbar sein.  Hier ist die Chance, vorzeitig diese Uhr zu erwerben.
Über die Jahre haben die Ideen, die diese ungewöhnliche Uhr darstellt, ein starkes Wachstum von "über"-konzeptionellen Produkten aus dem Haus MB&F bewirkt.  In einem späteren Artikel werden wir die weiter ausführen.  Eine neue Gallerie wird in Genf in diesem Herbst eröffnet werden.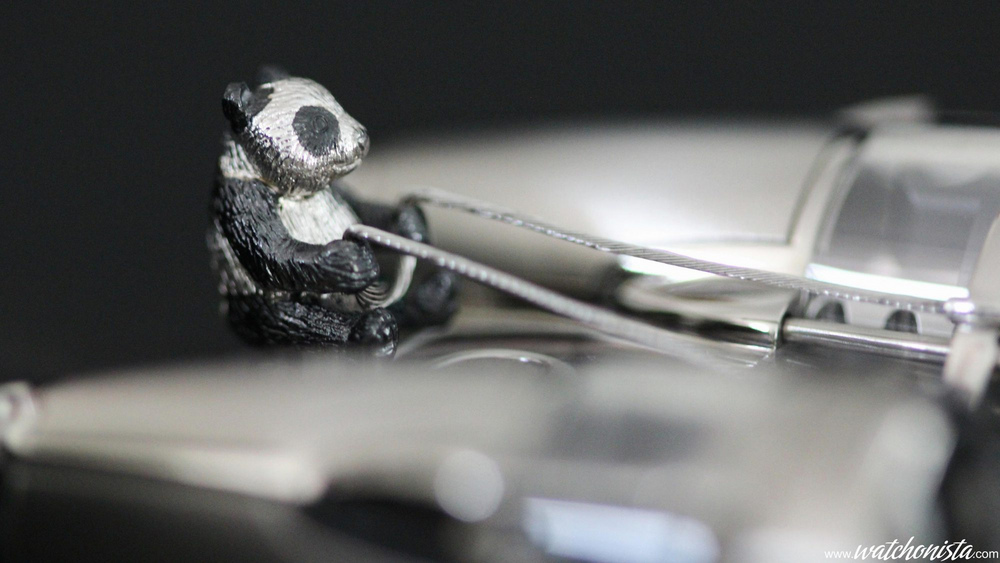 (Dieser Artiekl wurde von Malik aka Pifpaf von Watchonista verfasst.
Ich habe diesen Artikel ins Deutsche übersetzt.)