Three years ago to the day, I saw this Rolex watch on Ebay.  I contacted Rolex to inquire if they know more about the history of the logo on this watch and if they can tell me that this watch is not a Frankendial.  Rolex responded and told me they cannot help me.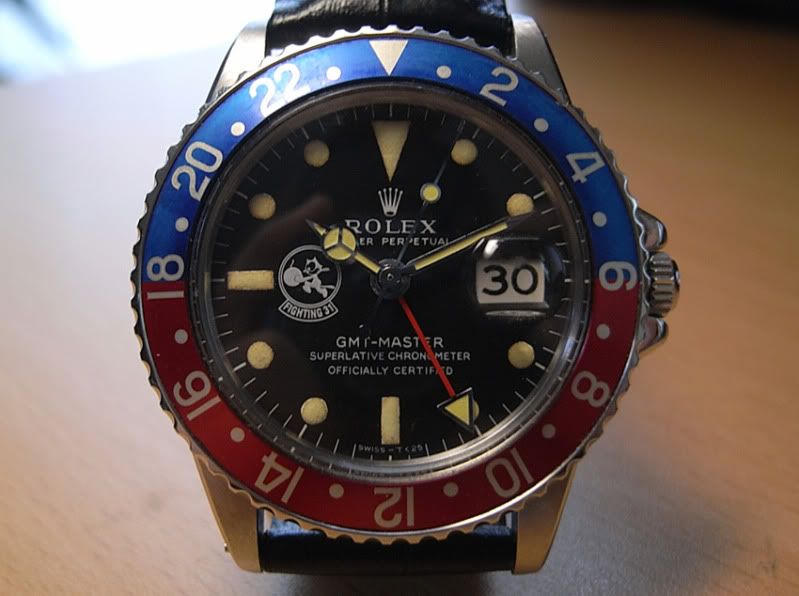 (picture taken from ebay.com)
I was bidding on the auction, but someone else won.  I do not know who or where the watch went to.
Sofar, I have not really been able to find out a lot.  What I could find out, is summarized below.
The Logo represents the US Navi F-14 Tomcat unit (most likely, someone told me).  And I found the logo in colors on wikipedia, and they have a good explanation as to the logo.  Here you go, from wikipedia:
VFA-31 or Strike Fighter Squadron 31 is known as the Tomcatters, callsign "Felix", a United States Navy strike fighter squadron stationed at Naval Air Station Oceana flying the F/A-18E Super Hornet. The Tomcatters are the second oldest Navy Fighter Attack squadron operating today.  If you want to read the full wikipedia article, check this.
I still do not know for sure if this logo was applied on the dial with permission of Rolex or not.
I happened to talk to someone who was a member of the Tomcat unit, and he told me, if someone got this watch, it would have been a highranking military general.
I am still looking for someone who can shed more light on this watch?